OUR ONLINE PRIVACY POLICY
Maui County Federal Credit Union may collect personal, financial and statistical information about you when you access various resources on our Website. These could include but are not limited to the following:
Information contained in applications or other forms submitted online
Information from transactions completed with us or with others
Information from consumer reporting agencies when applicable
Information contained in electronic communications received from you
The name of the domain from which you access the Internet
The date and time of your visit
The Internet address of the website you left to visit us
A list of the pages you visit while at our site
The Internet address of the website you then visit when you leave our site
Personally identifying information given as through an online application, registration, sweepstakes, or sending us an e-mail
2. We will not collect personally identifying information about you when you visit our Website unless you choose to provide such information to us. We do not disclose any non-public personal information about our members to anyone except as permitted/required by law.
3. Maui County Federal Credit Union restricts access to your non-public, personal and financial information to those employees or affiliated organizations who need to know that information for the purpose of providing products or services to you. We maintain physical, electronic, and procedural safeguards that comply with federal regulations to guard your non-public, personal information.
4. Maui County Federal Credit Union is not responsible for the content of third party sites hyperlinked from this website, nor does it guarantee the products or services offered on third party sites. You should review the privacy statement of a website before you provide personal or confidential information.
5. Maui County Federal Credit Union's website uses SSL encryption to collect secure information from you. This is the case where confidential information, such as your account number or Social Security Number, is requested.
We ask that you do not send confidential information to us via e-mail. E-mail is not necessarily secure against interception. If your communication is very sensitive, or includes personal information like your account numbers, credit card numbers, or Social Security Number, you may prefer to call us or send it by regular mail instead.
FACTS - What does Maui County Federal Credit Union Do With Your Personal Information? 
Financial companies choose how they share your personal information. Federal law gives consumers the right to limit some but not all sharing. Federal law also requires us to tell you how we collect, share, and protect your personal information. Please read this notice carefully to understand what we do.
The types of personal information we collect, and share depend on the product or service you have with us. This information can include:
Social Security Number and account balances

account transactions and checking account information

credit scores and wire transfer instructions
When you are no longer our customer, we continue to share your information as described in this notice.
All financial companies need to share members' personal information to run their everyday business. In the section below, we list the reasons financial companies can share their members' personal information; the reasons Maui County Federal Credit Union chooses to share; and whether you can limit this sharing.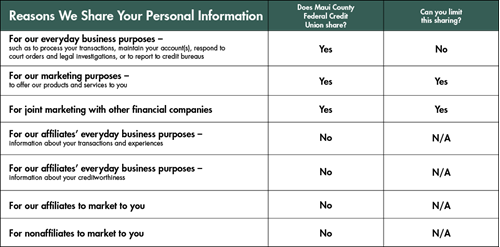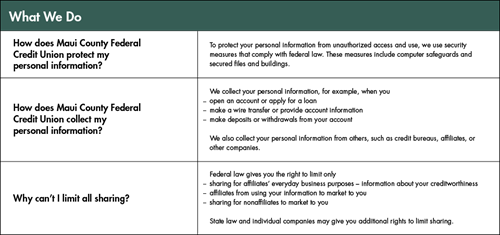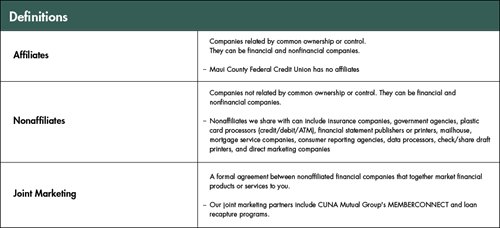 Questions: Call: 808-244-7968